Moving During COVID-19? What to Know
How to Prepare For Your Move
We talk often about how important it is to have a plan for your move, and that goes double for a move during the coronavirus. You have to remain one step ahead to ensure that you have the right supplies (since you can't be running back and forth to the store), and to ensure that you leave yourself enough time to pack and get ready for your movers.
To prepare for a move amidst COVID-19, be sure to keep the following steps in mind:
Contact your movers
This is important to confirm your reservation and discuss best practices for moving day. Moving companies are putting in lots of safeguards to help protect their clients, and it helps to be on the same page as them in terms of what is expected.
Buy all of your supplies in one go
You're going to want to get it right with just one trip to the store, so make sure you know exactly what you're going to need for your move. Use our packing calculator to get an estimate of what you'll need based on the number of rooms and people in your house. And when in doubt, buy extra.
Clean as you pack
When is the last time that switch on your bedside lamp or the outside of your crock pot has been cleaned? Use this opportunity to sanitize your belongings, wiping items down with disinfectant. If you don't have any, you can make one with a solution of one tablespoon bleach to one gallon water.
Finish packing at least 24 hours before the movers arrive
Coronavirus can last a long time on surfaces, including up to 24 hours on cardboard boxes. Your movers will be wearing gloves, but for everyone's safety you should still have your boxes packed and sitting untouched at least a day before your movers arrive.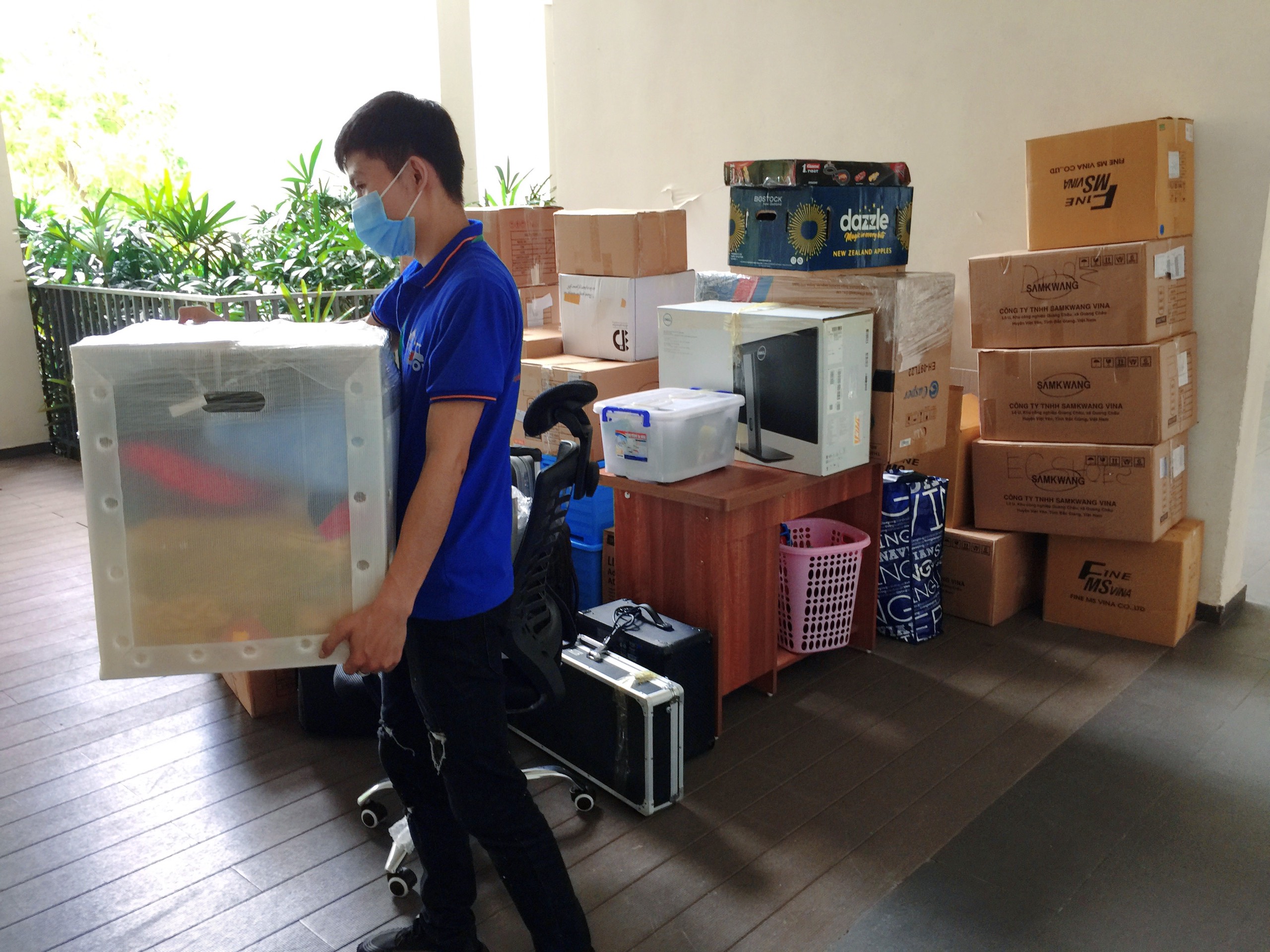 Important Tips for Moving During the Coronavirus Pandemic
If you're not sure about protocols for moving during the coronavirus lockdown, you are certainly not alone. This is unprecedented territory that necessitates keeping up to date with recommendations provided by WHO and the CDC. Here are some helpful tips for making your move go as smoothly as it can during the pandemic.
Let your mover know right away if you or anyone in your family is experiencing coronavirus symptoms. Transparency is very important for keeping everybody safe. And in many cases, your movers will still work with you, but they will put additional protocols into place to protect their workers. In addition to letting them know if you suspect the illness among yourself or a family member (or have a diagnosis), also let them know if you are isolating due to exposure, since the same risk mitigating steps should be taken.
Provide hygiene products for your movers. To aid your movers in following necessary hygiene practices, be sure to leave out products that they can use while they transport your items to and from the moving truck.  That includes soap and paper towels by the sink, and hand sanitizer by the door that they'll be entering and exiting through. If you're concerned about having enough supplies, let your moving company know so they can be sure to bring them along for use during the move.
If traveling for your move, plan accordingly. Need to book flights or hotels for your move? Make refundable reservations and/or only work with companies that offer free cancellations. Ask about cancellation policies before you book so that you don't end up wasting money later on.
Being smart when moving during the pandemic requires that you follow all of the standard pandemic rules and apply them to your move. Social distancing and sanitization requirements need to be upheld while moving.
Please stay safe during your move. We will be updating the site with new moving regulations or changes to the industry as they happen, so check back if you have additional questions about what to expect.
Hanoi Packers and Movers ensure: 100% our staffs are good health during packing and moving. Wear a mask that covers nose and mouth to help protect ourselves and clients. Wash hands with soap and water before working and entering house.
We're ready and prepared to make your upcoming moving day an enjoyable experience.
BOOK YOUR REMOVAL, MOVING
To enquire about any of our services, please call us Hotline/ Whatsapp/ zalo: 0915825589